Taekwon do kids is based on the five tenets of Taekwon do
COURTESY,
INTEGRITY,
PERSEVERENCE,
SELF CONTROL and
INDOMITABLE SPIRIT.
Each tenet has been given a cartoon character –  'The strongest 5'. Children on the programme get a work book so they can learn about the moral values of Taekwon do, and are assessed on their behaviour at home at school and during TKD KIDS lessons.
Before each lesson, TKD Kids have to recite the Taekwon do kids promise. This is based on the Taekwon do oath as set out by the founder of Taekwon do, General Choi Hong Hi
I shall observe the tenets of taekwon do

I shall respect my instructors and seniors

I shall never misuse taekwon do

I shall be a champion of freedom and justice

I shall build a more peaceful world
Each tenet and each part of the oath is interpreted through the five TKD Kids cartoon characters below.
---
Courtesy.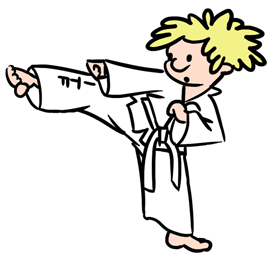 Name: Curtis
Meaning of name: Courtesy
Gender: Male
Ethnicity: European or North American
Characteristic: Courtesy
---
Integrity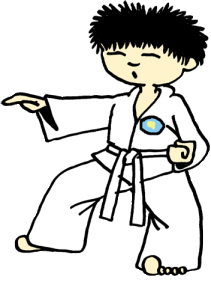 Name: Jung-Su
Meaning of name: Honesty and Beauty
Gender: Male
Ethnicity: Oriental (Asian)
Characteristic: Integrity
---
Perseverance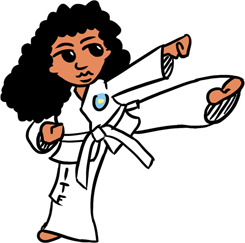 Name: Sabira
Meaning of name: Patient, Enduring
Gender: Female
Ethnicity: Arabic or Indian (Asian)
Characteristic: Perseverance
---
Self Control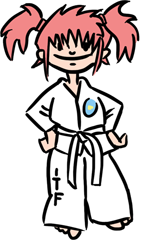 Name: Serena
Meaning of name: Composed, Peaceful
Gender: Female
Ethnicity: Latin
Characteristic: Self Control
---
Indomitable Spirit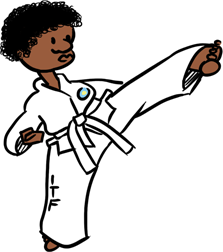 Name: Jabari
Meaning of name: Fearless
Gender: Male
Ethnicity: African
Characteristic: Indomitable Spirit